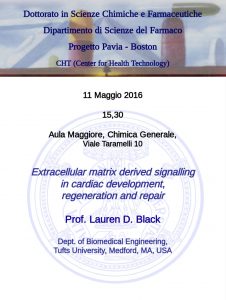 Title:
Extracellular matrix derived signalling in cardiac development, regeneration and repair
Speaker:
Prof. Lauren D. Black
Dept. of Biomedical Engineering,
Tufts University, Medford, MA, USA
Dr. Black's research interests lie in understanding the biophysical signaling mechanisms responsible for the development of healthy and diseased myocardium inclusive of mechanical stress/strain, electrical stimulation, and cell-cell/ cell-matrix interactions. The ultimate goal of his research is to design and develop new methods for repairing diseased or damaged myocardium. The work in his lab spans the following areas:
The use of novel methods, such as whole organ decellularization, to study the role that the local extracellular environment (matrix stiffness, morphology and composition) plays in the progression of myocardial disease and how it relates to the potential effectiveness of cell therapy based methods of cardiac repair.
Investigation into the physicochemical signaling mechanisms (growth factors, electrical stimulation, mechanical stimulation) responsible for the development of healthy myocardium from cardiac precursor or stem/ progenitor cells.
The design, development and evaluation of new methods for cardiac repair following myocardial infarction ("heart attack") and heart failure, inclusive of tissue engineered ventricular myocardium created in vitro for implantation in vivo.
The role of alterations in the mechanical environment in the development and progression of diseases like calcific aortic valve disease and hypoplastic left heart syndrome (HLHS).