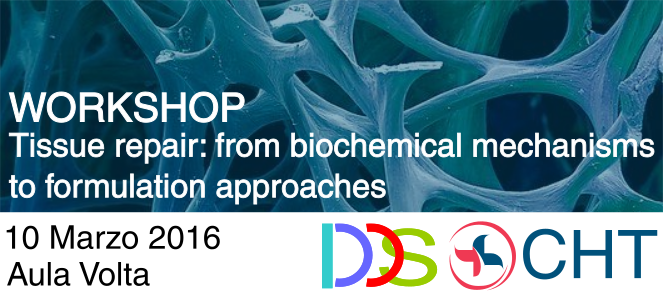 On 10/03/2016 at the Volta Hall of the University of Pavia the workshop:
Tissue repair: from biochemical mechanisms to formulation approaches
organized with a joined effort of the Department of Drug Sciences (DDS)  and the Centre for Health Technology (CHT) of the University of Pavia, and sponsored by the Doctorate School in Chemical and Farmaceutical Sciences.
Aim of the Workshop
Prime target of the workshop activities was to highlight the content of the REGENERO project to the scientific community within the University and the main experts of the community. The REGENERO project was proposed by the DDS and was subsequently adopted by the CHT, natural incubator for research that involve new technologies for health care and medical applications.
The cellular and molecular mechanisms underlying tissue repair and failure to heal are still poorly understood, and current therapies are limited.
Another aim of the workshop was to highlight emerging concepts and innovative perspectives in tissue repair, from the biochemical mechanisms to the formulation approaches to be used for the rational treatment of pathologies involving impaired tissue repair. The Department of Drug Sciences (University of Pavia) has a prominent expertise and a research activity focused on this topic. This event is inserted in this frame. The workshop is intended for researchers from pharmaceutical and healthcare companies as well as from academia and research organizations.
Organizing Committee
Franca Ferrari (Univ. Pavia)
Giuseppina Sandri (Univ. Pavia)
Maria Cristina Bonferoni (Univ. Pavia)
Silvia Rossi (Univ. Pavia)
Gabriella Massolini (Univ. Pavia)
Scientific Committee
Maria Cristina Bonferoni (Univ. Pavia)
Giuseppina Sandri (Univ. Pavia)
Silvia Rossi (Univ. Pavia)
Ida Genta (Univ. Pavia)
Carla M. Caramella (Univ. Pavia)
Franca Ferrari (Univ. Pavia)