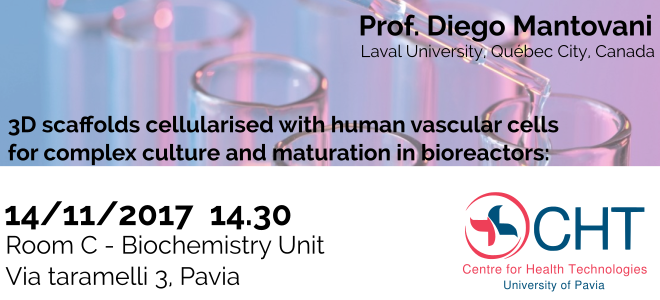 Title:
3D scaffolds cellularised with human vascular cells for complex culture and maturation in bioreactors:
applications in regenerative medicine and beyond
Speaker:
Prof. Diego Mantovani
Lab for Biomaterials and Bioengineering,
Canada Research Chair Tier I for the Innovation in Surgery
Dept of Min-Met-Materials Engineering & CHU de Québec Research Center Laval University, Québec City, Canada
Abstract:
In the last 50 years biomaterials, prostheses and implants have saved and prolonged millions of human lives. Today, nanothechnology, nanomaterials and surface modification provide us with a novel vision of for the use of biomaterials, allowing us to foresee strategies to solve the upcoming organ shortage.
The possibility of mixing vascular cells with collagen based materials enables the future applications for regenerative medicine. 3D co-cultures of composite materials and cells in the appropriate environment represent a pivotal point in regenerative medicine, even though it will be necessary to develop new strategies to further innovation in this research field.
Bio:
Holder of the Canada Research Chair in Biomaterials and Bioengineering for the Innovation in Surgery, professor at the Department of Materials Engineering at Laval University, adjunct director at the Division of Regenerative Medicine of the Research Center of the CHU de Québec, Diego Mantovani is a recognised specialist in biomaterials. At the frontier between engineering, medicine and biology, within his team, their works aim to improve the clinical performances of medical devices for functional replacement, and to envisage the next generations of biomaterials to develop artificial organs enhancing the quality of the life of patients. Prof. Mantovani has authored more than 200 original articles, holds 4 patents, and presented more than 120 keynotes, invited and seminar lectures worldwide in the field of advanced materials for biomedical applications.Prof. Mantovani's H-Factor is 35 (July 2016) and his works received more than 4300 citations. In 2012, he was nominated Fellow of the International Union of Societies for Biomaterials Science & Engineering (FBSE) for his leadership and contribution to biomaterials for medical devices. He is advisor of some medical devices consortium in the Americas, Asia and Europe.