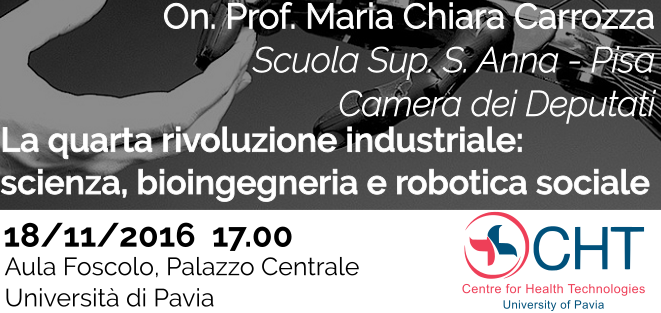 Title:
The fourth industrial revolution: science' bioengineering and social robotics
Seminar language:
English
Speaker:
On. Prof. Maria Chiara Carrozza
Chamber of Deputies' Sant'anna School of Advanced Studies of Pisa
On. Prof. Maria Chiara Carrozza, professor in Industrial Bioengineering at the Scuola Superiore Sant'Anna di Studi Universitari e di Perfezionamento, was Director of the Research Division, coordinator of the ARTS Lab and is, since  2007, Rector of the University. Member of IEEE Robotics and Automation Society (RAS), within IEEE Engineering in Medicine and Biology and of the RAS Technical Committee "Micro / Nano Robotics and Automation". Her main research sectors are rehabilitation bioengineering, biorobotics, robotics, humanoid robotics, bionics, robotic and prosthetic hands,technological aids, smart environments, human- machine interfaces, tactile sensors, artificial skin, tactile perception.
On. Prof. Carrozza was elected in february 2013 at the Italian Chamber of Deputies and vowed on April 28th as Minister of of Education, Universities and Research. After this experience she has then gone back to parliamentary chamber and commission work,first in the 3rd Commission (external and comunitary affairs) and presently in the 10th Commission (Productive activities, commerce, tourism).